New Patient Process in Belton MO

Set Up An Appointment in Belton MO
At Hampton Chiropractic you can set up an appointment to see our Dr Hampton in one of three ways. 1. View our live schedule to schedule online. 2. Call our office at (816) 535-5101 and speak with our front desk to get scheduled or 3. Walk-in and we will give you the next available appointment time on our schedule. New patients: you will receive your adjustment/treatment on the first visit.
---
Fill Out New Patient Paperwork
As with any medical office, we do require new patients to fill out some initial paperwork to help the Doctor get a better understanding of what's going on and more insight into your medical background. We also understand that this paperwork can add minutes to your appointment time, so for your convenience we have provided those forms on this page. If you have any questions regarding any of these forms, please don't hesitate to give us a call and we'd be happy to answer any questions, our office phone number is (816) 535-5101. We'll see you soon!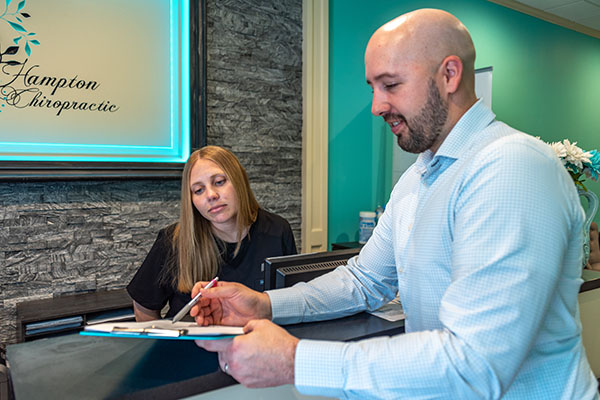 ---
Come In For A Visit
The first visit will tend to last around 30 minutes. This includes the initial exam, chiropractic adjustment, and optional 10-minute massage chair session (included with treatment). Rest assured, all treatment is done fully-clothed. For this reason, we recommend wearing non-restrictive clothing so you are comfortable when getting adjusted.
---
Experience Pain Relief
After your first visit, you are well on your way to improvement. With that said, most of our patients notice relief of pain early on in treatment, and some even have complete relief after their first visit. Some soreness is expected after the first visit but that soon fades. You or your family can rest assured knowing that you will never be prescribed more care than you need, want, or can afford.
OFFICE HOURS
---
Monday
8:00am - 6:00pm
---
Tuesday
8:00am - 6:00pm
---
Wednesday
8:00am - 6:00pm
---
Thursday
8:00am - 6:00pm
---
Friday
8:00am - 6:00pm
---
Saturday
8:00am - 1:00pm
---
Sunday
Closed